Chart Update: Forex and commodities have been added to the chart
We have added some commodities and foreign exchange data to the chart. The main reason for adding the data is so that local stocks that have high correlations with commodities (priced in different currencies) can be analysed. It will allow for finding correlations between certain charts. It is also nice to not have to go onto a different site to look at the Gold ($GOLD) or USDZAR charts.
What are the New Symbols
You would just start typing the code on the left hand side in the search and then select the correct option from the dropdown.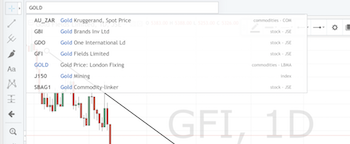 Commodities
Unfortunately some data does not have an open, high or low. So you are limited to using a line graph in those instances. In the list below all will only have closing data so it is best to choose line. Those with an asterisk after the code, have candle data.
    GOLD        GOLD, Gold Price: London Fixing
    AU_ZAR      Gold Kruggerand, Spot Price
    PR_AL       Aluminum Prices
    PR_CU       Copper Prices
    CME_CL1*    Crude Oil Futures, Continuous Contract #1 (CL1) (Front Month)
    ICE_T1*     WTI Crude Futures, Continuous Contract #1 (T1) (Front Month)
    ICE_B1*     Brent Crude Futures, Continuous Contract #1 (B1) (Front Month)
    CME_BZ1*    Brent Crude Oil Financial Futures, Continuous Contract #1 (BZ1) (Front Month)
    ORB OPEC    Crude Oil Price
    PALL        Palladium Fixing
    PLAT        Platinum Fixing
    SILVER      Silver Price: London Fixing
    FE_TJN      Iron Ore 62% Fe CFR China,CME
    PIORECR_USD Iron Ore Price

Currencies
Luckily all currencies have candle data available
    USD     USD/BITCOIN Weighted Price
    USDEUR  Currency Exchange Rates - USD vs EUR
    USDGBP  Currency Exchange Rates - USD vs GBP
    USDJPY  Currency Exchange Rates - USD vs JPY
    USDCNY  Currency Exchange Rates - USD vs CNY
    USDRUB  Currency Exchange Rates - USD vs RUB
    USDSAR  Currency Exchange Rates - USD vs SAR
    USDZAR  Currency Exchange Rates - USD vs ZAR
    AUDZAR  Currency Exchange Rates - AUD vs ZAR
    GBPZAR  Currency Exchange Rates - GBP vs ZAR
    EURZAR  Currency Exchange Rates - EUR vs ZAR
    RUBZAR  Currency Exchange Rates - RUB vs ZAR
    CNYZAR  Currency Exchange Rates - CNY vs ZAR
    IDRZAR  Currency Exchange Rates - IDR vs ZAR
    USDCHF  Currency Exchange Rates - USD vs CHF
    USDCAD  Currency Exchange Rates - USD vs CAD
    USDNZD  Currency Exchange Rates - USD vs NZD
    USDAUD  Currency Exchange Rates - USD vs AUD

Caveats
So along with the caveat that some data does not have candle data, ie. it only has closing data. Some codes do not have volume either (in fact most don't)
How to change from Line data to candle
Please see the image below on how to do this